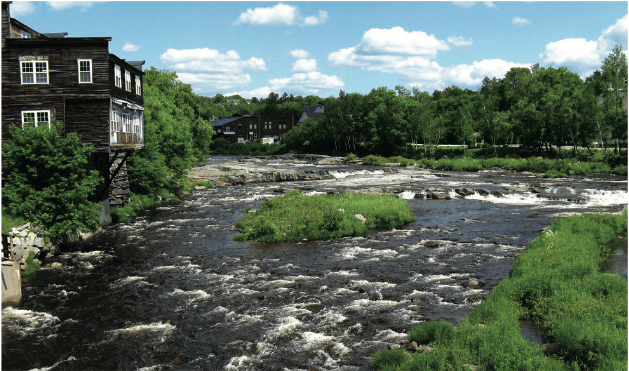 Jasperdo via openverse, CC BY-NC-ND 2.0
Settlement protects New Hampshire river, holds landfill operator accountable
CONCORD, N.H.—On Jan. 11, U.S. District Court Judge Paul Barbadoro entered a judgment approving the settlement of a long-running Clean Water Act lawsuit filed by National Environ- mental Law Center (NELC) attorneys against Casella Waste Systems, one of the largest waste management companies in the country. The settlement requires the company to clean up past pollution and fund conservation projects for the Ammonoosuc River.
The lawsuit, filed on behalf of Community Action Works (formerly Toxics Action Center) and Conservation Law Foundation, targeted pollution emanating from Casella's Bethlehem, New Hampshire, solid waste landfill. The suit alleged that a drainage channel ownedby Casella and its subsidiary, North Country Environmental Services (NCES), collected groundwater and sediment contaminated by landfill-related pollutants, such as manganese, iron, and 1,4-dioxane, and discharged them into the Ammonoosuc River.
In August 2021, after hearing extensive arguments on the parties' motions for summary judgment, Judge Barbadoro ruled that NELC attorneys had raised a viable claim for relief and ordered the parties to proceed to trial. Casella then approached NELC regarding a settlement, and negotiations proceeded over the ensuing months.
Under the terms of the agreement reached by the parties, Casella and NCES must apply for permits to remove contaminated sediments from the drainage channel and then complete a full clean-up and restoration of the channel, all within three years. Landfill-related pollutants removed from the channel must be safely disposed. NELC believes this solution will mitigate the environmental effects caused by the past release of landfill leachate.
The settlement also requires Casella and NCES to pay $50,000 to the nonprofit Ammonoosuc Conservation Trust to fund "projects designed to promote restoration, preservation, protection, and/or enhancement of water quality in the Ammonoosuc River watershed." The funds will be used to implement initiatives to improve and maintain the health of the river's ecosystem.
"This settlement sends the message to the waste management industry that it must take responsibility for the effects of its landfill operations on the aquatic environment," noted NELC Litigation Director Chuck Caldart.
The Ammonoosuc starts at the Lake of the Clouds on Mount Washington and flows through 60 miles of western New Hampshire. It is a valuable habitat for threatened species like the peregrine falcon and American marten, and provides recreational opportunities for fishing, canoeing, and kayaking.